SoFi Stadium and Hollywood Park, a near 300-acre sports and entertainment destination, worked with Studio MLA, a landscape architecture and urban design studio, to create a civic and environmentally conscious landscape across three key areas: water capture and reuse, the utilization of 100 percent Southern California-native plant species, and the continued development of public parks for year-round use.
The focus on sustainable landscape solutions and water conservation led to the creation of Lake Park, which functions as an open recreational space for the community and a novel water recycling system. Inspired by the original water feature that was part of the former Hollywood Park racetrack, Lake Park consists of an upper and lower lake separated by cascading waterfalls. At approximately 6 acres and 16 million gallons of water, the lake is surrounded by an additional 6 acres of parkland.
The site's 5,000-plus trees and many species of plants are all native to Southern California and represent the five main ecologies that make up the Mediterranean biome that Southern California inhabits. By purposefully selecting plants and trees that are native to the region, it promotes the regeneration of habitats that were previously missing in the area and encourages the return of native wildlife.
Indoor-Outdoor venue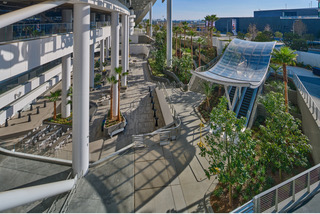 Natural water filtration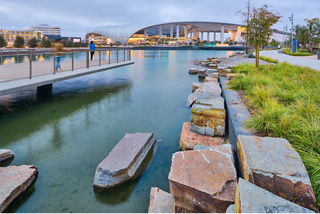 Helpful trees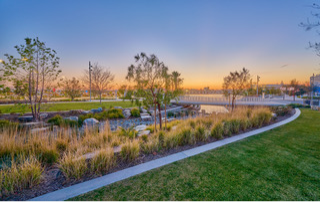 Year-round recreation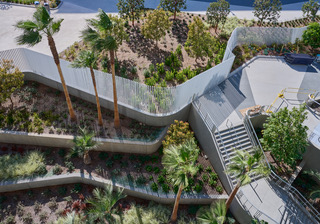 Celebrating California