By EPA
Recognition is a key element of EPA's Sustainable Materials Management (SMM) Program and WasteWise. EPA awards select WasteWise partners for their exemplary waste prevention and diversion activities. Partner awards are based on self-reported data in the categories of waste prevention, recycling and disposal.
The 2019 WasteWise national award winners shared details and quotes about their waste prevention and diversion activities, and about their awards with EPA. Read about their accomplishments and how they achieved them.
CenturyLink Field
Seattle, Washington – Very Large Business Partner of the Year
"CenturyLink Field continues to be one of the most environmentally-friendly and sustainable sports and entertainment facilities in the world. In the past few years, the Seahawks and First & Goal Hospitality (FGH) have announced partnerships covering composting – with payback in organic vegetables – ongoing energy and water usage reduction, food donations to the Salvation Army, and sustainable seafood supplies."David Young, Senior Vice President of Business Operations, Seattle Seahawks and General Manager
In 2018, CenturyLink Field hosted two million guests on 185 event days and diverted 94 percent of its waste (1,167 tons) from going into the landfill through reuse, recycling, and composting. The waste diverted included 5.83 tons of food donated to Pacific Northwest hunger relief organizations, 3.34 tons of items donated to Goodwill Industries, 8.74 tons of metal scrap recycled locally, and 518.35 tons of organic material (wasted food and compostable serviceware) were composted. At the October 4, 2018 Seahawks game, the field served 3,000 pounds of french fries made from potatoes grown at Sound Sustainable Farms, owned and operated by Cedar Grove Composting. The potatoes were grown using local Cedar Grove compost, which in turn was made from CenturyLink Field's wasted food and compostable serviceware. In recognition of its efforts, CenturyLink Field received the Global Stadium Business Awards' Sustainability & Community Excellence Award in June 2018.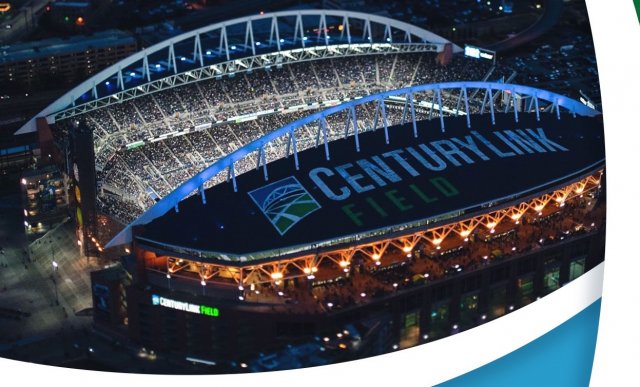 CenturyLink Field began its sustainability programs in 2006, with the purpose of tracking waste and educating its employees and guests. The stadium has grown the program from a three percent diversion rate from the landfill to an average of a 95 percent diversion rate each year. In 2012, the field made substantial strides by implementing single stream recycling. In 2013, it established partnerships to increase its use of compostable items used in food service delivery. Implementation of these actions resulted in sustained success for the field's sustainability efforts.
One of the biggest challenges CenturyLink Field faces is educating its cyclical and seasonal staff, including the concession stands. To meet this challenge, the sustainability team is engaging with its stakeholders to develop concise training materials that can be used on game days for the over 2,000 stadium staff. Use of the training materials will ensure compliance and adherence to CenturyLink Field's sustainable practices and procedures.