Miami, the host city of Super Bowl LIV, is at the forefront of major environmental challenges including sea-level rise, ocean pollution and loss of biodiversity.
So, naturally, sustainability is an underlying thread in the side events leading up to the Big Game. While you count down the hours before kickoff, take a few minutes to catch up on all things sustainability at Super Bowl LIV.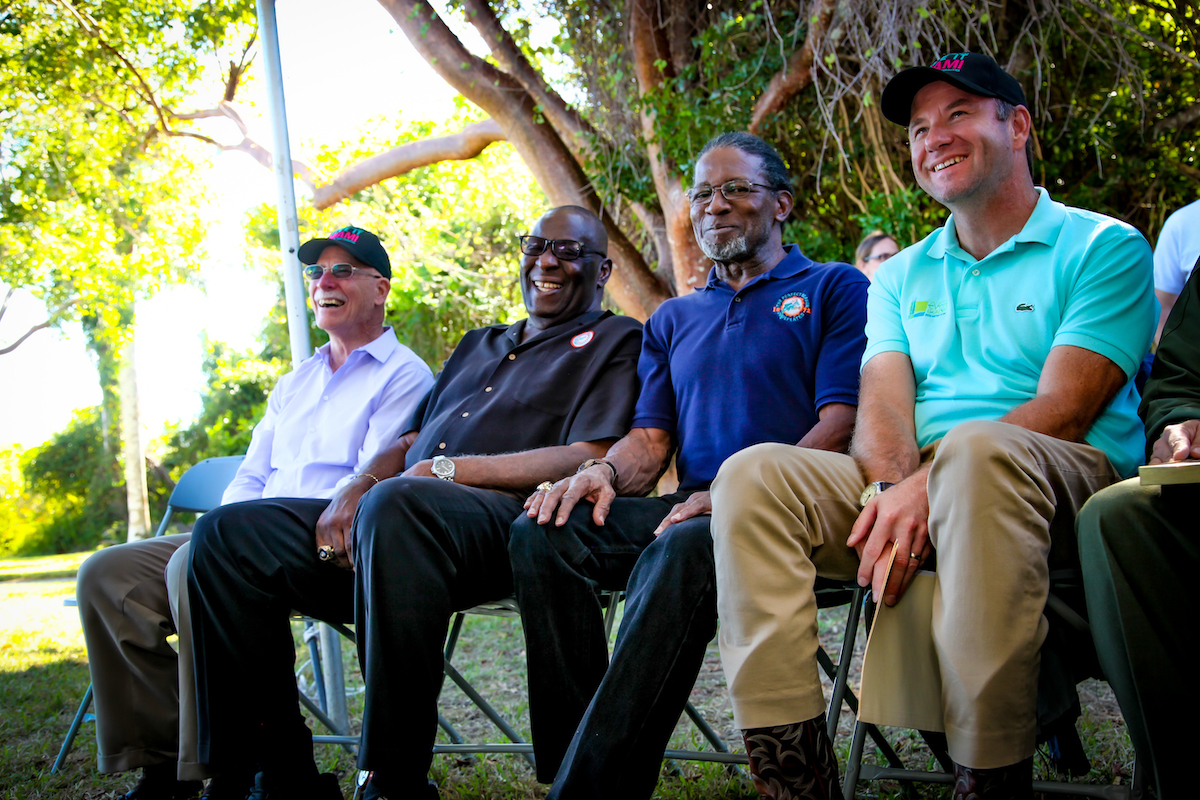 (Image: O2E partners celebrated the 72nd anniversary of Everglades National Park with members of the 1972 Perfect Season Miami Dolphins team. From left to right, former safety Dick Anderson, former offensive guard Larry Little and former running back Mercury Morris sit alongside Everglades Foundation CEO Eric Eikenberg.) 
Signature O2E initiative shines the spotlight on Miami's coastal ecosystems leading up to Super Bowl LIV
Greater Miami is flanked by the Atlantic Ocean and the Florida Everglades, two valuable ecosystems that are increasingly under threat.
To draw attention to the beauty of South Florida's outdoor spaces and the need to preserve them, the Miami Super Bowl Host Committee partnered with the Ocean Conservancy, the Everglades Foundation and NFL Green to launch its signature environmental initiative: Ocean to Everglades (O2E).
O2E-focused events kicked off on Earth Day last year and continued in the months since, with a focus on environmental education, volunteering and outdoor experiences.
Coral restoration leaves a legacy for the NFL's 100th season
Super Bowl LIV marks the end of the NFL's 100th season. To celebrate, O2E partners out-planted 100 staghorn corals off the coast of Key Biscayne.
Once found plentifully in the waters off South Florida and the Florida Keys, staghorn corals provide habitat for organisms that allow reef systems to thrive. But they're under increasing threat due to factors like climate change, overfishing and pollution.
O2E collaborated with Force Blue, a reef conservation nonprofit founded and staffed by military veterans who served in special operations forces such as the Navy SEALS. Force Blue divers worked with scientists from the University of Miami to complete the project over two days in June, bringing the NFL's longtime support for service members and their families together with its growing environmental focus.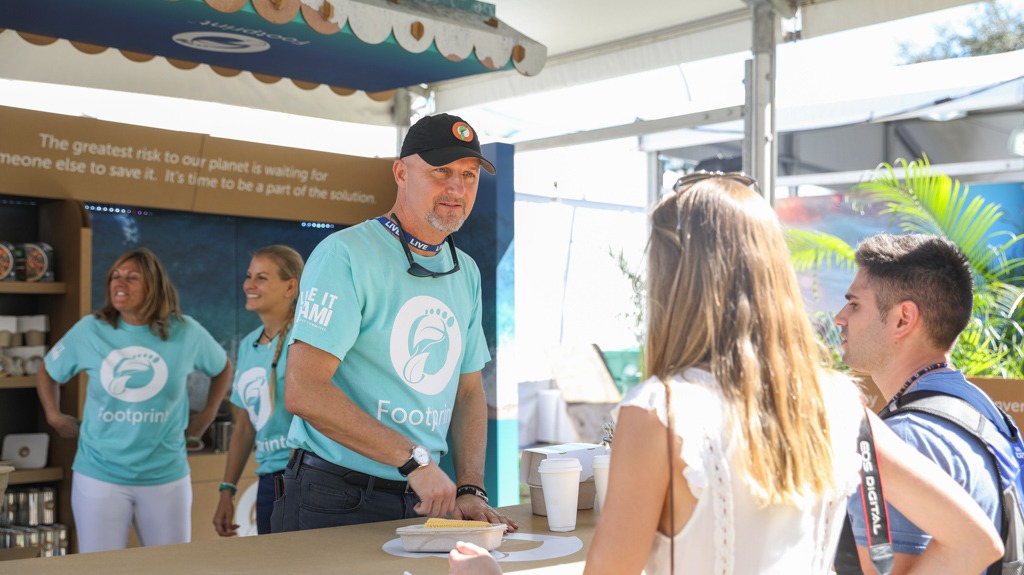 (Image: Sustainable packaging company Footprint is one of several organizations featured in the Environmental Village at Super Bowl Live.)
Environmental Village is a first for Super Bowl Live
Super Bowl Live kicked off on Saturday at Bayfront Park in Downtown Miami. The weeklong fan festival is free and open to the public—and this year, it includes a dedicated Environmental Village for the first time in NFL history.
The experiential space brings the Host Committee's environmental partners together with the more than 500,000 attendees expected to pass through Super Bowl Live. O2E-focused activations invite fans to learn more about the state of South Florida's ecosystems and interact with nonprofit partners like the Ocean Conservancy and the Everglades Foundation.
Attendees can also browse sustainable products from bio-based packaging brand Footprint, sustainability-focused travel operator MSC Cruises, and renowned marine wildlife artist Guy Harvey. Local environmental groups including the Florida Fish and Wildlife Conservation Commission, South Florida Water Management District, and Florida Department of Environmental Protection will be on hand as well.
Food and material recovery ensure nothing goes to waste
The NFL partnered with Second Harvest Food Bank and Disney Harvest to cut down on food waste at Super Bowl LIV events like the Pro Bowl and Super Bowl Live. Unserved prepared food will be distributed to local shelters and community kitchens in Orlando, according to NFL Green. Leftover decorative material, office supplies and other reusable items will also be donated thanks to a partnership with the Salvation Army. And, of course, recycling bins will be available at all facilities, courtesy of PepsiCo.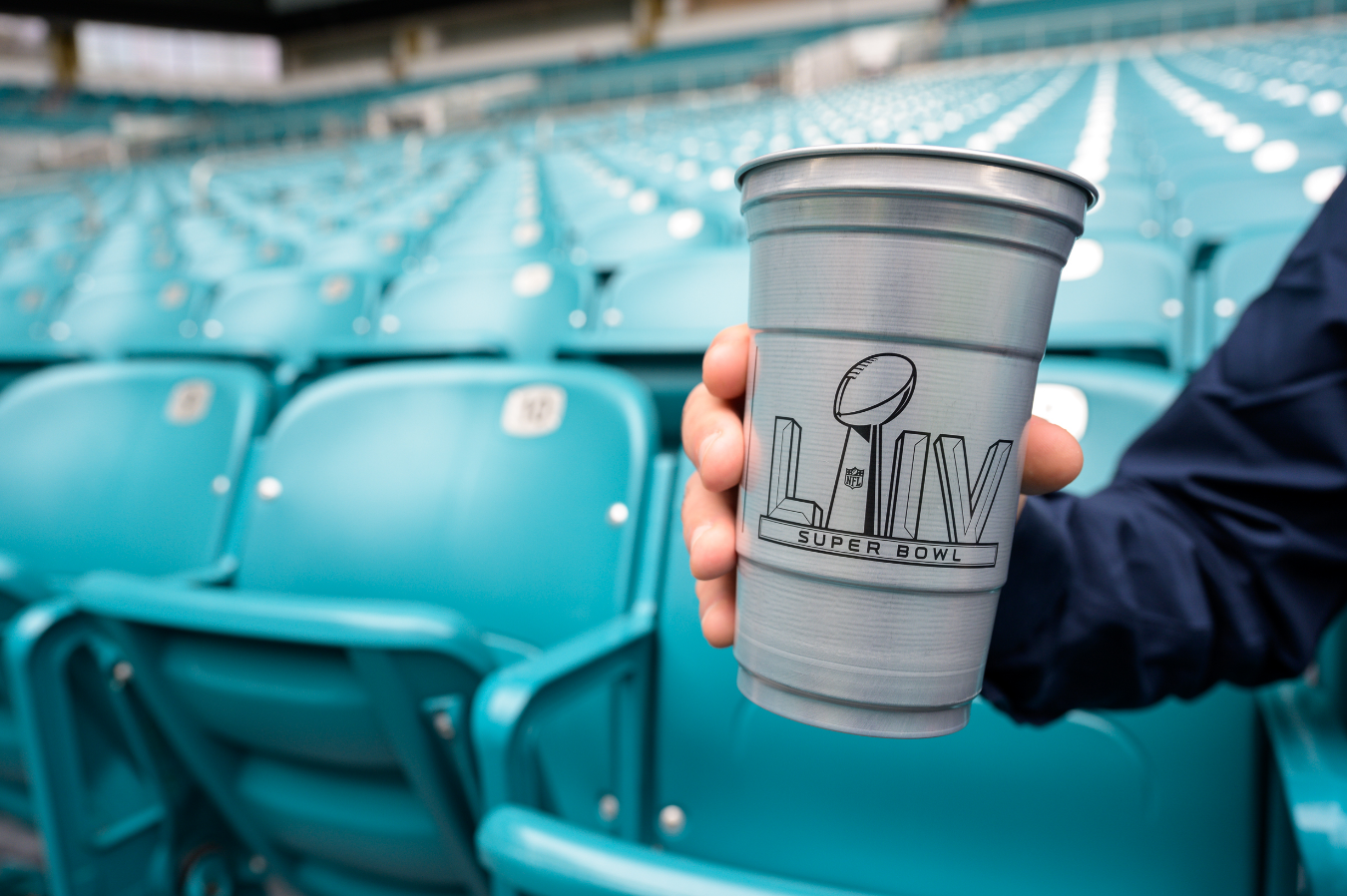 (Image: Aluminum cups provided by Ball Corp. will replace single-use plastic at Hard Rock Stadium during Super Bowl LIV.)
Venues ditch single-use plastic in favor of more sustainable alternatives
In November, Hard Rock Stadium, home of the Miami Dolphins and the host venue for Super Bowl LIV, pledged to phase out 99.4 percent of single-use plastics by the end of this year. Novelties like football-shaped ice cream cups will soon be the only plastic items served in the stadium, as it finds alternative materials for single-use standbys like cups, bottles, food wraps and cutlery.
The move will eliminate more than 2.8 million plastic items annually—and it extends to the Big Game. Case in point: All those celebratory beer rounds will come in aluminum cups rather than plastic. Hard Rock's concessions partner Centerplate and longtime NFL sponsor Bug Light teamed up with Ball Corp. to produce the cups for Super Bowl LIV. Hard Rock Stadium will continue using them for all 2020 games and events.
Community engagement efforts get locals involved
"Super Bowl LIV provides a platform and an opportunity to connect and engage our community and all sports fans around a critical global priority — the preservation of our environment," Rodney Barreto, chairman of the Miami Super Bowl Host Committee, said in a 2019 statement announcing the O2E initiative.
Over the past year, environmental events tied to the Super Bowl have engaged both South Florida locals and volunteers from corporate partners like Verizon and Anheuser-Busch. From urban garden planting to beach cleanups, the events primarily focused on experiences that educate locals about their surrounding environment and get them involved in preserving it, culminating in NFL Green Week earlier this month.
Image credits: Matthew Noel, The Everglades Foundation, Footprint, Ball Corp.