Earth Day is a day of collective action, leadership, and affirmation of the incredible progress taking place across the sports greening movement. Below are just a few stores of how GSA members are stepping up this year on #EarthDay2021
Chicago White Sox
The Chicago White Sox are dedicated to sustainable practices and eco-friendly solutions at the ballpark. In addition to recycling nearly 50 percent of all ballpark waste, the team diverted more than 90 percent of all cardboard materials this year. In fact, more than 6,500 yards – or around 400 tons – of field waste was diverted from landfills while resodding the field this offseason. The White Sox also began LED retrofitting light fixtures throughout the ballpark property, and together, these ongoing projects have resulted in more than 840,000 kWh in estimated yearly energy savings. The White Sox have partnered with Shore Community Services, a non-profit that employs individuals living with intellectual and developmental disabilities, to recycle outdated electronics and technology in excess of 1.5 tons. This process helps recover various valuable metals, saves natural resources, reduces pollution and conserves landfill space.
InstaFund Racing/La Prima Professional Cycling
With riders and partners spread across 6+ countries, the InstaFund Racing team are encouraging folks to participate in an Earth Day Cleanup Ride. See more of their work here
Los Angeles Angels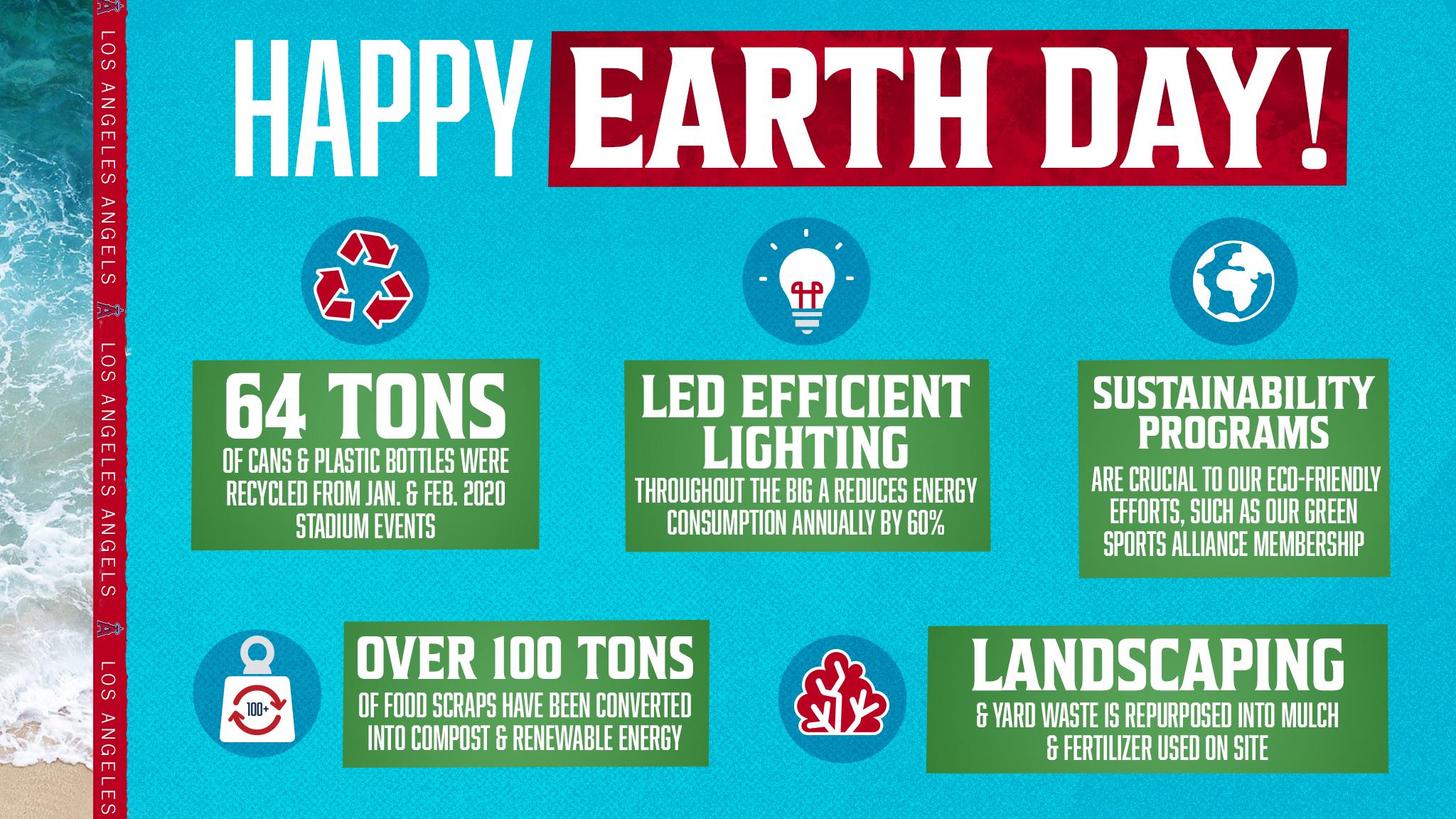 Angel Stadium continues a multi-year plan to convert stadium lighting fixtures and bulbs to LED efficient lighting. This effort has already reduced the energy consumption of Angel Stadium by 60%. In 2021, lighting fixtures will be converted in Clubhouse areas, Stadium Offices, Terrace Concourse, and Service Tunnels. Since 2017, over 100 tons of food scraps and waste from Angel Stadium Kitchens and Commissaries have been diverted away from landfills and converted into compost and renewable energy through anaerobic digestion. Glass, aluminum and plastic recycling continues to be a major part of the Angel Stadium Sustainability Program. 64 tons of these materials were recycled from January and February 2020 events at Angel Stadium.
Mercedes-Benz Stadium
Mercedes-Benz Stadium Urban Garden and Edible Landscape was installed as part of the LEED Platinum Certification in 2017. After the Stadium opened it has become a community space for associates and local students to learn about growing food sustainability, soil health and carbon sequestration, as well as contributing food to local pantries. In partnership with a movement across the City of Atlanta to educate and inspire citizens to participate in a hyper-local food system of Urban Agriculture and Sustainable practices, the MBS Urban Garden has become a non-traditional classroom and a recent addition to the AGTECH curriculum of the local High Schools.
Minnesota Wild
The first and only complex in the world to be awarded LEED Platinum, Green Globes, and EIC/SES Gold certification, the Minnesota Wild are encouraging folks to celebrate #EarthDayAtHomeMN by cleaning up their neighborhoods and communities in which they live, work and play.
Become a Storm Drain Goalie. Sweep away debris from your neighborhood storm drains to prevent contaminants from going to into our lakes, ponds and rivers. 
Pick up trash and debris from their yard, neighborhood or local park. 
People are encouraged to share their photos on social media using our hashtag – and one lucky participant will win an autographed Kaprizov jersey!
Learn more about the sustainability work at the Xcel Energy Center
Pac-12
As supporting partners of the newly announced Playing for the Next Generation campaign ("PLAY"), the Pac-12 have been hosting a series of webinars to lead the conversation of broadening traditional sustainability to sustainable communities and the role of climate justice as it relates to social justice.
Learn more about their upcoming Pac-12 Sustainability Conference in June 15-17, 2022
Portland Trail Blazers
The Rose Quarter has once again teamed up with Free Geek to host a two-day TechNOW drive, a drive-thru donation event collecting used technology to support students doing distance learning and the hybrid educational model. There are still thousands of students across Oregon without access to necessary technology to complete their schoolwork and homework. The events took place in the Benton Lot on the Rose Quarter campus April 17th and 18th, 11am – 2pm. The Portland Trail Blazers also provided a donation of technology to Free Geek.
World Surf League
The World Surf League's (WSL) fans, staff and athletes know as well as anyone how important the ocean is to our global surfing community. The ocean is our arena, our home, our inspiration. This Earth Day, and throughout the 2021 CT season, we are working to preserve the future of our sport with the We Are One Ocean petition. Whether you frequent a local break, or live thousands of miles inland, the ocean's health is vital to the health and well-being of everyone on Earth.
So, join our call to world leaders at the 2021 UN Convention on Biological Diversity to protect and conserve at least 30 percent of the global ocean by 2030. We're urging world leaders to be led by science and an inclusive process that embraces all stakeholder communities and considers the ocean's value to the peoples of every nation. Celebrate Earth Day with us by learning more and signing the We Are One Ocean petition today at WeAreOneOcean.org.
Learn more about the We Are One Ocean campaign
Yale University
Bulldog Sustainability is a team of student athletes at Yale that builds community around sustainability within athletics. Our most well-known initiative is our Green Team Certification Program, where Yale's varsity and club athletic teams compete to earn points by advancing a culture of sustainability within their team dynamic and activities. In previous years, our Bulldog Sustainability team hosted in-person meetings and tabling events, and teams earned points by exhibiting sustainable behaviors at their games, practices, and team socials. However, given the restrictions to athletic competition posed by the COVID-19 pandemic and the scattering of Yale athletes around the globe as a result, we needed to adjust our approach to ensure that everyone could still participate wherever they were. We completely revamped our Green Team Certification program to include goals that can be accomplished on an individual level and also in virtual formats to cater to the pandemic. For example, we held a virtual meet & greet to kick off our program, and we allowed teams to earn points for things like hosting virtual team socials, or by using reusable cloth masks during practices to reduce waste from single-use masks. To continue building community, we reinvigorated our social media strategy to include educational posts, fun memes, and spotlights of athletes finding creative, sustainable solutions. We also launched our Alumni Speaker Series to foster dialogues around athletics and social and environmental justice. While we look forward to building relationships with Yale's athletes moving forward, we are so proud of the innovation that has come out of teams during the pandemic!