This article series is sponsored by AEG and produced by the TriplePundit editorial team.
Professional sports leagues are in the unique position of communicating with fans of all ages. That means their efforts around sustainability have the potential to reach millions of people who are passionate about their team and their sport—and leagues are increasingly using this clout with fans to drive positive environmental impact forward.
In 2018, the Major League Baseball All-Star Game became the first U.S. professional league event to be certified as environmentally responsible by the Council of Responsible Sport. The 2019 Midsummer Classic—held on Tuesday—accomplished the same feat, powered by designated Green Teams tasked with engaging fans around sustainability.
Renewable energy efforts are some of the most visible programs sports teams can take on, as solar and wind power arrays atop stadiums, ballparks and parking lots provide strong, visual demonstrations of sustainability in action.
Sports organizations were quick to adopt renewable energy ahead of the pack several years ago, even before the cost of wind and solar dropped to today's low levels. In the MLB, teams including the Boston Red Sox, Arizona Diamondbacks and St. Louis Cardinals began adopting solar as early as 2008.
In the North American Stock Car Racing Association (NASCAR) circuit, the Pocono Raceway installed 40,000 solar panels in its parking lot back in 2010. In the National Football League, the Washington Redskins installed solar panels in 2011, the Philadelphia Eagles began installing solar arrays and wind power systems in 2010, and the Buffalo Bills ringed their stadium with micro wind turbines in 2011.
By 2014, professional sports organizations were also taking fan engagement to the next level by partnering with  residential solar companies on promotional initiatives. At least three teams in the National Hockey League—the Los Angeles Kings, San Jose Sharks and Anaheim Ducks—took the lead in 2014 with a promotion that offered fans $500 off a Sungevity solar plan.
Soon after, the NHL announced a league-wide partnership with Constellation Energy for energy efficiency, renewable energy certificates and carbon offsets for the entire 2014-2015 season, making it the first professional sports league to enter into this type of energy procurement partnership.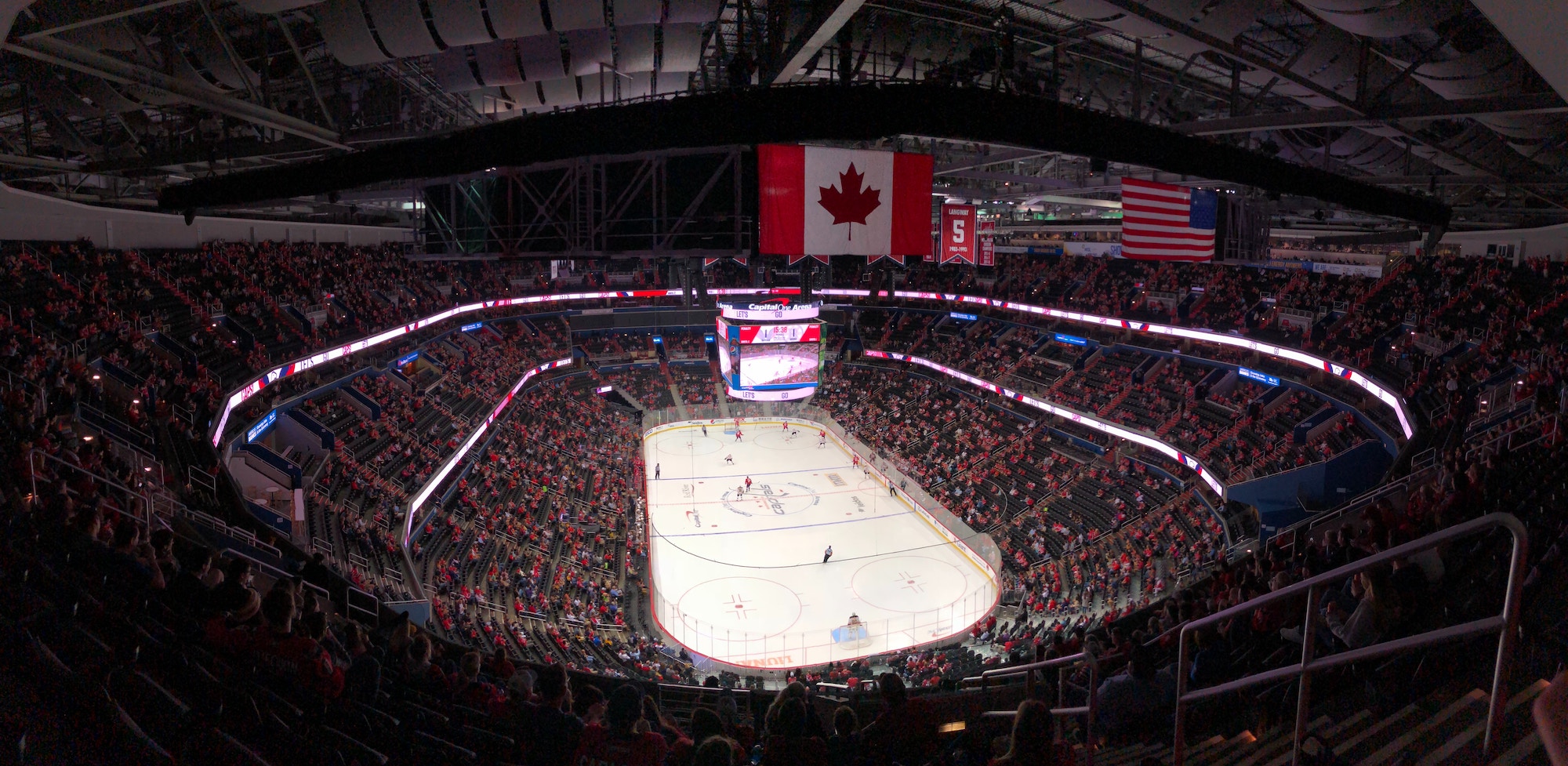 Sparking a broader conversation about renewable energy
The Constellation partnership marked a significant development in the way that professional sports leagues communicate with fans about renewable energy.
Rather than focusing on solar or wind technology at sports facilities, the Constellation program enabled NHL to talk more broadly about environmental stewardship as it relates to preserving the game of hockey itself.
In a 2014 press release announcing the partnership, NHL Commissioner Gary Bettman explained: "Our partnership with Constellation advances our commitment to promoting responsible energy use by the NHL, including our teams, our venues and our fans. Our sport was born on frozen ponds and relies on winter weather. Everyone who loves our game will benefit by taking an active role in preserving the environment and the roots of the game."
Renewable energy credits and carbon offsets don't have the visual impact of solar arrays and wind turbines, but they can provide sports leagues with new opportunities to engage fans with sustainability initiatives that they can practice at home.
Not everyone has the opportunity to install their own wind or solar array. However, sports organizations can lead by example in other, more accessible areas related to renewable energy. Carbon offsets for travel are one example. The NHL has calculated that team travel does not play a particularly large role in its overall carbon emissions, but fan travel does. So, earlier this year—for the first time ever—the league purchased enough offsets to cover all team travel for the Stanley Cup.
The offset initiative provided an opening to talk about actions that fans can take to reduce their own travel-related carbon emissions—if not through renewable energy, then carbon offsets, car sharing, mass transit and electric vehicles.
Raising the profile of renewables
In the MLB, the New York Yankees also demonstrate how professional sports teams can use their media impact to expand the sustainability conversation outward from renewable energy, to embrace the end goal of reducing carbon emissions through a variety of pathways.
The Yankees previously reached fans by partnering with solar leader Sunrun on rooftop solar promotions at Yankee Stadium. This year, the team raised the bar by hiring an environmental science advisor, believed to be the first position of its kind in professional sports. Through the announcement of the new position, the Yankees articulated a more inclusive approach to carbon management that emphasizes waste management, food waste, LED lighting and other actions that fans can practice at home.
Underscoring this inclusive approach, in April the team also signed on to the new U.N. Sports for Climate Action Framework. The Framework calls for a broad environmental commitment that includes outreach and fan education, along with direct action to reduce carbon emissions—and other sports stakeholders including the National Basketball Association and AEG soon followed suit in signing on.
Where renewable energy meets social equity
In addition to reducing carbon emissions, renewable energy also involves elements of environmental justice, social equity and community well-being. These element are beginning to emerge in the way that sports organizations talk about renewable energy and sustainability—and they come into particularly sharp focus for professional hockey.
Climate change is just one force threatening the sport. League stakeholders are also concerned about barriers to participation for the next generation of players. "The reason why we do this work is because the NHL wants to ensure that the sport of hockey thrives for future generations. Period. Full stop," explains Omar Mitchell, the NHL's first director of sustainability.
Mitchell cites the NHL's 2014 sustainability report, which underscores how renewable energy and other sustainability initiatives are intertwined with access issues. While indoor rinks are commonplace, hockey's historic roots are in free access to outdoor spaces. Reclaiming that element of social equity and accessibility is an important part of NHL's sustainability strategy. "We need cold weather. We need fresh water. We need breathable, livable places where people can experience the game outdoors," Mitchell says.
"Sports can be a platform to talk about the environment from a social equity perspective, by creating healthy thriving communities," he explains. "We like to say that we are on the first stage of a much longer journey. Sustainability is all about continuous improvement. It cannot be one thing 'done and done.'"
Celebrating progress, and moving on
Next year, the NHL will celebrate the 10th anniversary of its NHL Green initiative, and the league is already looking ahead to additional progress.
On the operational side, much of the focus will be on taking advantage of rapid advances in new technologies for saving energy and water at hockey facilities. With all 31 teams (soon to be 32) signed on to the Green Sports Alliance, the league is in a good position to share best practices.
In particular, NHL teams can take advantage of the league's ongoing work with AEG, the company that owns the Staples Center in Los Angeles and the LA Kings franchise, among other teams and venues. AEG recently installed an innovative, energy-efficient dehumidifier and water recycling system at the Staples Center, and it has already caught the eye of other NHL franchises.
On the fan side, one major effort moving forward is to bring innovative technology and best practices into local communities, as about 80 percent of local hockey rinks are more than 20 years old and could benefit substantially from efficiency upgrades, Mitchell says.
All in all, renewable energy is playing a role in a much broader culture shift, and professional sports is emerging as a key driver of this change.
Image credits: Chanan Greenblatt, Anders Krøgh Jørgensen, Priscilla Du Preez and Taylor Rooney via Unsplash